Tungsten is known as one of the toughest materials found in nature.  It is very dense and nearly impossible to melt.  When made into a fine powder, pure tungsten can be combustible and can spontaneously ignite.  Natural tungsten contains 21 other unstable isotopes and five stable isotopes.  It's used in various industries and for a wide range of products.  
Because of the strength of tungsten carbide, when made into compounds, it is used to harden such tools as drill bits and saw blades.  According to the BBC, it can take about 10 minutes to cut just one drill bit from tungsten using a diamond cutting system.  Jewelers also use the metal for wedding bands as it doesn't bend and wear over time.
Tungsten Carbide & Industrial Alloys
About 17% of tungsten carbide usage comes from the creation of composite materials that contain other metals in them and specialized alloys.  Carbide can be mixed with silver, copper, nickel, and iron to create materials used in commercial and industrial applications such as radiation shielding materials, electronics, and the aeronautical industry.
Jewelry Industry Utilized Tungsten Carbide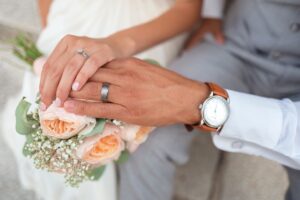 One of the newer, more popular applications for tungsten carbide is making jewelry.  Wedding bands tend to get bent and suffer more damage and wear, so it makes sense to use tungsten carbide for the added strength and to prevent wear. With resistance to local deformation, a tungsten carbide ring offers strength and protection against scratching.  Being harder than gold as well as less expensive, rings especially are a hot commodity for this metal.  
Construction Industry, Cemented Carbide
Various construction applications such as drilling and mining tools use cemented carbide.  About 65% of the market goes into making cutting and mining tools, mining tips, and drill bits.  Tungsten carbide products are preferred over stainless steel because of their strength, hardness, and resistance to damage.
Contact Consolidated Resources for Your Industiral Metal Recycling Needs
CRI welcomes tungsten carbide as one of the materials we recycle. If your business produces tungsten carbide scrap or any metal scrap, we can help you maximize the value of that scrap. We offer customized recycling programs for your waste stream. Call us today to learn more (623) 931-5009 .
Additional information about tungsten carbide
https://www.carbide-usa.com/top-5-uses-for-tungsten-carbide/ 
https://www.livescience.com/38997-facts-about-tungsten.html#:~:text=One%20of%20the%20most%20common,system%2C%20according%20to%20the%20BBC.