Recycling is a great way to help the environment and can also be a great way to make extra money while being ecologically responsible. If you ever wondered how to get started, we have a few tips that will help. The key is to do your research.
Know your local recycling programs
The first thing to do is to contact your local municipality or recycling center to get information on recycling policies in your area. Collection of recyclables is usually organized as a curbside collection, or as a commercial or municipal drop-off site.
Find out which types of materials are accepted and how to prepare them for recycling. Also, ask which types of materials are not accepted for recycling and must be sent to the landfill.
Preparing the waste for recycling
Ask if you need to separate items and if you need to prepare them in a specific way. Curbside collection usually does not require separation, while drop-off sites do.
Some centers require removing bottle caps while others don't, and you may also need to bag the bottles. Cardboard may need to be sorted, flattened and tied together in bundles. And some centers do not want you to crush aluminum cans. Knowing these rules will save you time and make recycling easier.
If you are taking your electronics for recycling, like cellphones, make sure you clear your personal data. Clear all your passwords, contacts, and text and email messages. Check if you have any important data on it and make a backup.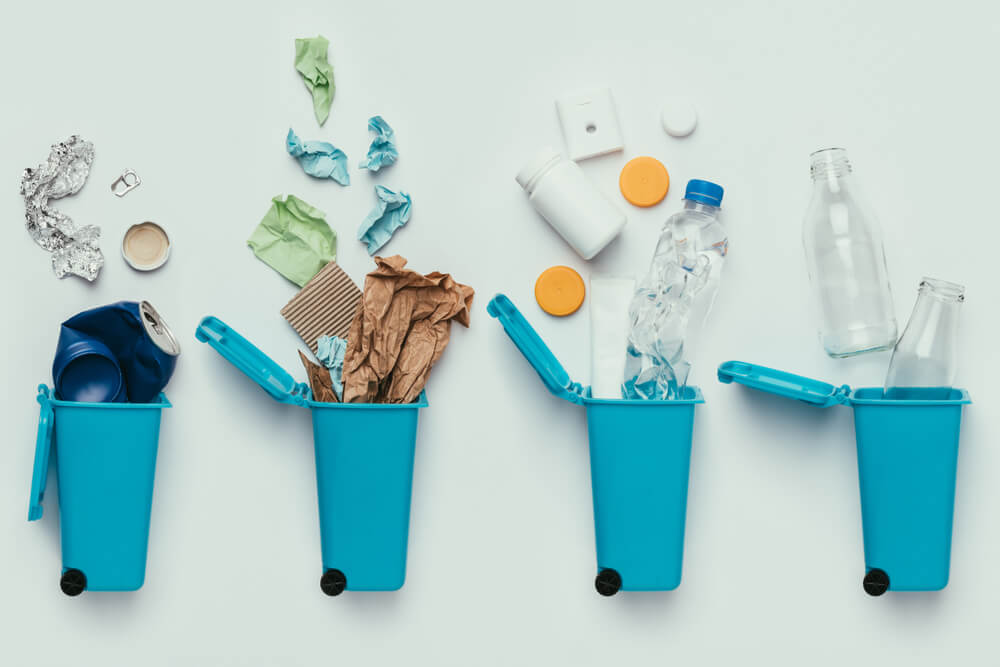 Make money recycling
You can get paid for recycling certain items. Your local municipality may not pay you for recyclable materials, so be sure to contact them to verify what programs they offer or find a local recycling company that has a good reputation. Scrap metal recycling pays more than other types of scrap, but it's not the only thing that has value. Read on for more information.
Scrap metal
Scrap metal is a very profitable material to recycle. Metal is separated as ferrous and non-ferrous. Test your metals with a magnet – ferrous metals stick to it, while non-ferrous metals do not.
Ferrous metals – these are common metals like steel and iron. You won't make as much with these materials, but it's still important to recycle them.
Non-ferrous metals – like copper, brass, aluminum, or bronze are much more valuable.
Bottles and cans
You can make money by collecting bottles and cans from your home, work, or neighborhood. Some states such as California and Michigan charge a deposit or tax on cans, and both glass and plastic bottles. This gives consumers an incentive to recycle by refunding the tax when the items are turned in. California pays 5 cents per bottle, while Michigan pays 10 cents. Check your local area for rates. These rates also depend on the size of the bottle or can.
Car batteries
Car batteries are the most recycled product in the United States. Lead-acid batteries are recycled by grinding, neutralizing the acid, and sorting out polymers from the lead. Some battery companies will pay about $7.00 per battery and possibly more if you have greater numbers. When you buy a new car battery, the store will charge a core fee to give customers the incentive to return the old battery for a refund. No matter what you choose to do, be sure you dispose of batteries properly.
Electronics
All electronics contain a certain amount of precious metals, even gold. Older electronic devices contain more of these valuable materials. Gold is used in very small quantities as plating for protection and conductivity but is very expensive and used minimally.
There are different estimates of the amount of gold found in scrap electronics. Probably the most accurate estimate shows that 10,000 old phones = 400 laptops = 1 oz. of gold. At current prices, it can sell for around $1,200. Another estimate is that one ton of desktop circuit boards contains close to 5 oz. of gold.
Many cell phone providers offer trade-in programs, where you can get a discount or a gift card for bringing in old phones.
Ink cartridges
Many office supplies stores offer cash for used ink cartridges, with different return policies. Check with your local store, and see if you can profit from these deals.
Recycling for businesses
If you run a business that creates recyclable waste, you should definitely consider implementing a recycling program. Recycling cuts costs and increases the profit margin for your business. Eco-friendly companies have a better public image, and consumers have a tendency to keep using their services.
Here at Consolidated Resources, Inc., we develop comprehensive recycling solutions to handle all of your industrial waste needs. We have been serving Arizona's manufacturing community for more than 30 years and take great pride in our reputation.
Call us today to find out what CRI can do for your business!